Floor mats in your car might not be as important as other car accessories you buy. However, these can protect your cars and keep your car's floor safe from any damage. These may also help you boost the resale value of your car and keep it looking good. Basically, there are 2 kinds of floor mats for cars and these include carpeted floor mats and car rubber floor mats. But, which should you use for your car? Which is more beneficial?
Carpeted Floor Mats
Carpet floor mats are frequently made of a durable Berber or nylon material. These help them stay durable while providing good style and comfort. They can be different thicknesses and sizes and other aftermarket floor mat brands would let you customize them.
One of the best things about carpet floor mats is that they look great and can be customized or styled easily on how you like them. You must not have problem finding sets of mats with the logos and colors that you like on them. You may pay to have them customized for yourself or look for a set with your car brand logo or favorite sports team. The carpet floor mats' affordable price means you will save serious dough and once you take care of them, these floor mats will last for a long time. Your heels will also stay in place with carpet floor mats compared to the rubber ones, particularly when wet.
Car Rubber Floor Mats
Usually, rubber car mats are constructed of heavy duty rubberized materials that are made to protect against some elements. You will find different styles and textures out there. Some companies cater custom cut rubber floor mats for cars that would fit your car perfectly. These might be a bit expensive. However, if you want to keep your vehicle nice, they are worth it.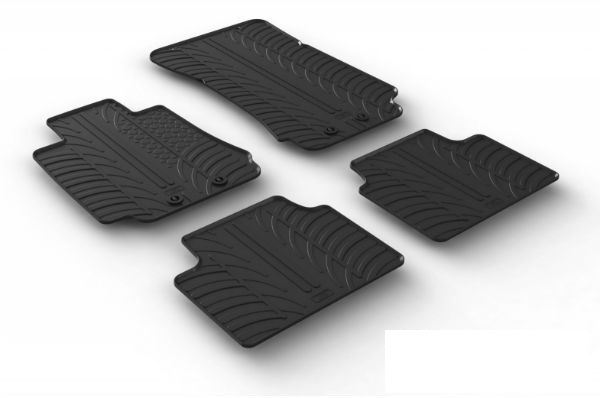 A good thing about car rubber floor mats is how simple it is to clean them. It does not matter if you have spilled your coffee or you have muddy shoes. More often than not, clean up is as simple as taking mats out and spraying that off with garden hose. Car rubber floor mats last for a long time. In fact, these floor mats may last as long as your car does. While these mats would sustain damages over timer, the damage's impact is small. Moreover, once you get the all-weather floor mats, these have deep grooves, which can hold dirt, slush and water keeping them off your shoes and pants.
The Bottom Line
Overall, it comes down to your personal preferences. But, if you are searching for something that will provide you a great amount of protection while keeping your car look good, car rubber mats are the best choice. These floor mats protect your car better against adverse weather and spills and they also last longer. Nevertheless, if you do not like the appearance of rubber floor mats, you may go with carpeted floor mats.
Do you need new car shock absorbers? Monroe Reflex shock absorbers are ideal. Read more about it by clicking on the link.
Articles from the same category: