Every time people think of sunglasses, the images that come to mind are those days spent by the sea or a scenic view after a wonderful hike. However, while everyone loves being on the beach every single day, driving is that one activity where you need to use sunglasses. Read on below to learn some tips on how to buy driving sunglasses men and the specific features you should be looking for.
Coverage
One of the most important features you should look for when shopping for sunglasses for driving is frames with taller and wider lens designs. You should also inspect for the wraparound design. While driving, sunlight might enter from the side and affect your vision.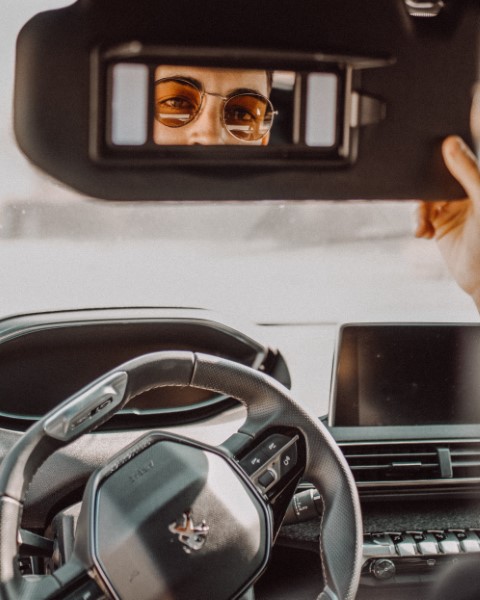 A frame with a big lens or a wraparound design will ensure that all angles are covered. If you want a more casual appearance with a comfy fit, your best choice is a flat or 6-base frame.
Fit
One more thing you need to do when looking for a new pair of sunglasses is to put them on first to ensure that they fit you comfortably. There are some people who spend long hours every day driving their vehicle.
This is why it is important to ensure that your sunglasses don't put any pressure on the temples. It can easily cause migraines or headaches. One recommendation here is to pick frames with slight hook at the tip or straight back temples. 
Grip
Rubberized temple tips and nose pads are another feature that you might want to look for when shopping for driving sunglasses. This feature may be nonessential for driving sunglasses.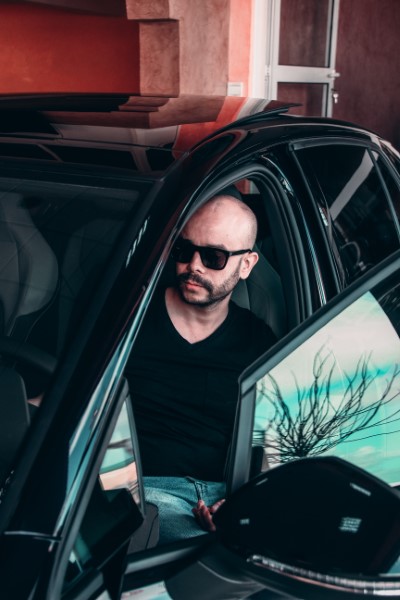 However, if you have plans of using your sunglasses beyond driving alone, see to it that you look for the rubberized nose pads and temple tips. There are also a lot of brands that use hydrophilic material that tend to get stickier when you sweat more. 
Frame Material
The frame material is another important feature you need to consider when looking for driving sunglasses men. Just remember, though, that there is no such thing as the perfect frame material when it comes to driving sunglasses, and instead, it is more of a matter of personal preferences. To experience the best level of comfort, you might want to look for a frame made of acetate, which is known for its patterns, texture, and ability of holding a variety of colors.
Nylon is the second type of material you can consider for frame. Nylon is flexible and lightweight that makes it a great option if you wear your sunglasses for hours on end. This material has the ability of holding its shape even under extreme conditions that make them an ideal pair of all-around sunglasses.
Metal is the final frame material you can consider. Metal frames usually don't provide plenty of wraparound designs, yet these are lightweight with thin temples to ensure a comfortable fit.
Lens Material
You have to two primary choices when it comes to lens material, and these are polycarbonate and glass. Glass lenses offer the best level of optical clarity with the highest scratch resistance. The downside of these glass lenses is that these tend to be heavier and les resistant to impact. This is also the reason why these are not easy to get in prescription.
The advantage of polycarbonate lenses is the fact that they are impact-resistant and lightweight. The disadvantage of polycarbonate lenses is that they scratch easily and not as optically clear as the glass lenses.
Gradient Lenses
The gradient lenses begin dark on the top and turn lighter as it goes closer to the bottom. Gradient lenses are more popular as fashion lens but they provide value for driving sunglasses men. If you are driving and focused on the road, your eyes are going to look through the darkest portion of the lens to keep you protected from sunlight. Every time you look down at your dashboard, the lens becomes clearer to make it easier for you to read the display.
Polarized Lenses
The polarized lenses are definitely a must for all pairs of driving sunglasses. Every time you drive, sunlight will come down and reflect off wet road surfaces, stop signs, and headlights. The harsh glare might blind you, making it difficult for you to clearly see the road before you. Polarized lenses let your eyes relax and stay comfortable while driving.
Take note that there are newer vehicles that feature digital dashboard displays that you might not be able to see when using polarized lens. Should you opt for polarized lenses, make sure that you check these out in your vehicle before hitting the road.
Transitions Lenses
Photochromic or transition lens are now a hot commodity in today's optical industry and there is a good reason for it. The lenses can go from clear to dark depending on the amount of sunlight that hits the lens. Sadly, the brand transition lenses might not be effective while driving. It is because the windshield of a vehicle blocks off exposure to UV that is necessary for the lens to transition from clear to dark.
What is the Most Suitable Color of Driving Sunglass Lens?
Choosing the right color of lenses is one of the most important steps you need to consider when shopping for driving sunglasses men. Most of the time, a neutral base color like a contrast-boosting copper or grey base are your best options. A grey base can help darken the vision with no need to enhance the colors that you see. A copper base will be a good tint if you want more color and contrast.
Should You Wear Sunglasses When Driving?
At the end of the day, it is important to always wear driving sunglasses men, especially during daytime. Since the sunlight may reflect off the road, vehicles, and stop signs, it can make it difficult to clearly see the road before you. A great pair of driving sunglasses can make a big difference to ensure a safe and comfortable drive.
Articles from the same category: